Lion Village Student Housing - Apartment Living in Colorado Springs, CO
About
Premier student housing in Colorado Springs, Colorado, welcome home to Lion Village Student Housing Apartments! Strategically located near UCCS, CC, PPCC, and CTU, positioned precisely where you want to be. Additionally, we are close to dining, shopping, and thrilling entertainment. Our goal is to make living away from home feel just like home.
Lion Village Student Housing is proud to present to you four spacious and fully-furnished two, three, and four-bedroom apartments for rent that will be available on a per-room basis. Apartment features include air conditioning, private bedrooms with a bathroom, fully-equipped kitchens, and a washer and dryer in-home. For your convenience, utilities, internet, and cable are all included! Our Colorado Springs homes were carefully created with you in mind.
Community features at Lion Village Student Housing are second to none! Take an afternoon off studying and enjoy our heated shimmering swimming pool! Also offered are individual leases, a business center to stay connected, a state-of-the-art fitness center, and bike racks are available. Schedule a tour today and discover why Lion Village is the best-kept secret in Colorado Springs, CO!
Waived App & Deposit for Fall 2023 Applicants! Rents starting as low as $650 for a bedroom!
Floor Plans
2 Bedroom Floor Plan
Availability for Longs Peak
Availability for Crestone Peak
3 Bedroom Floor Plan
Availability for Pikes Peak
4 Bedroom Floor Plan
Availability for Greys Peak
Show Unit Location
Select a floor plan or bedroom count to view those units on the overhead view on the site map. If you need assistance finding a unit in a specific location please call us at (719) 418-7255 TTY: 711.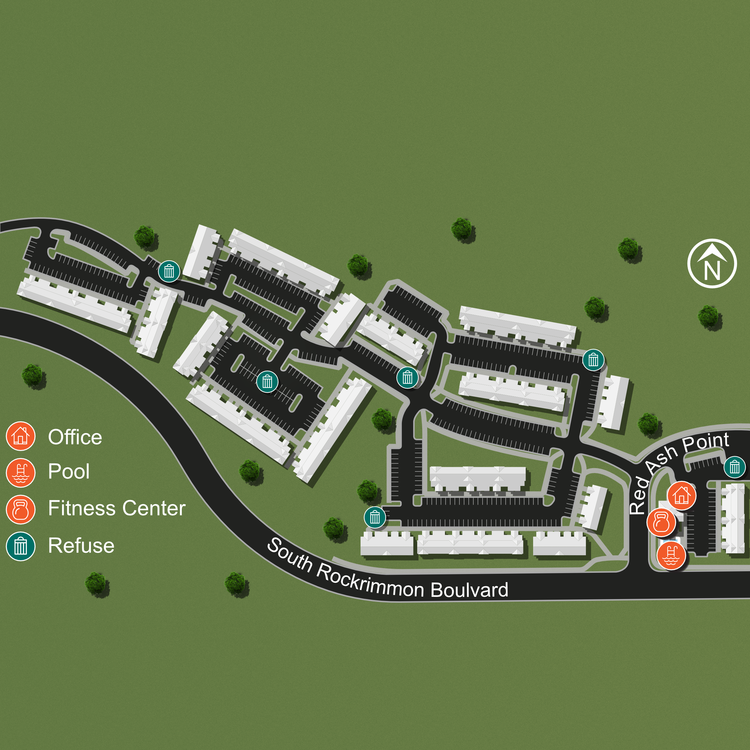 Unit: BP-5948-A
2 Bed, 2 Bath
Availability:

2023-08-07

Rent:$965
Square Feet:266
Floor Plan:

Longs Peak
Unit: BP-5948-B
2 Bed, 2 Bath
Availability:

2023-08-17

Rent:$965
Square Feet:266
Floor Plan:

Longs Peak
Unit: RA-5665-B
2 Bed, 2 Bath
Availability:

2023-08-17

Rent:$965
Square Feet:266
Floor Plan:

Longs Peak
Unit: LR-5714-A
2 Bed, 2 Bath
Availability:

2023-08-17

Rent:$965
Square Feet:266
Floor Plan:

Longs Peak
Unit: LD-5743-A
2 Bed, 2 Bath
Availability:

2023-08-17

Rent:$965
Square Feet:266
Floor Plan:

Longs Peak
Unit: LD-5743-B
2 Bed, 2 Bath
Availability:

2023-08-17

Rent:$965
Square Feet:266
Floor Plan:

Longs Peak
Unit: BP-5980-B
2 Bed, 2 Bath
Availability:

2023-08-17

Rent:$965
Square Feet:266
Floor Plan:

Longs Peak
Unit: BP-5596-B
2 Bed, 2 Bath
Availability:

2023-08-17

Rent:$965
Square Feet:266
Floor Plan:

Longs Peak
Unit: BP-5980-A
2 Bed, 2 Bath
Availability:

2023-08-17

Rent:$965
Square Feet:266
Floor Plan:

Longs Peak
Unit: BP-5804-A
2 Bed, 2 Bath
Availability:

2023-08-17

Rent:$965
Square Feet:266
Floor Plan:

Longs Peak
Unit: LR-5714-B
2 Bed, 2 Bath
Availability:

2023-08-17

Rent:$965
Square Feet:266
Floor Plan:

Longs Peak
Unit: LR-5764-B
2 Bed, 2 Bath
Availability:

2023-08-07

Rent:$1070
Square Feet:532
Floor Plan:

Crestone Peak
Unit: LD-5703-B
2 Bed, 2 Bath
Availability:

2023-08-17

Rent:$1175
Square Feet:532
Floor Plan:

Crestone Peak
Unit: RA-5645-A
2 Bed, 2 Bath
Availability:

2023-08-17

Rent:$1175
Square Feet:532
Floor Plan:

Crestone Peak
Unit: RA-5645-B
2 Bed, 2 Bath
Availability:

2023-08-17

Rent:$1175
Square Feet:532
Floor Plan:

Crestone Peak
Unit: LT-5778-B
2 Bed, 2 Bath
Availability:

2023-08-17

Rent:$1175
Square Feet:532
Floor Plan:

Crestone Peak
Unit: LT-5778-A
2 Bed, 2 Bath
Availability:

2023-08-17

Rent:$1175
Square Feet:532
Floor Plan:

Crestone Peak
Unit: LD-5703-A
2 Bed, 2 Bath
Availability:

2023-08-17

Rent:$1175
Square Feet:532
Floor Plan:

Crestone Peak
Unit: LT-5754-A
2 Bed, 2 Bath
Availability:

2023-08-17

Rent:$1175
Square Feet:532
Floor Plan:

Crestone Peak
Unit: BP-5859-B
2 Bed, 2 Bath
Availability:

2023-08-17

Rent:$1175
Square Feet:532
Floor Plan:

Crestone Peak
Unit: BP-5859-A
2 Bed, 2 Bath
Availability:

2023-08-17

Rent:$1175
Square Feet:532
Floor Plan:

Crestone Peak
Unit: BP-5686-C
3 Bed, 3 Bath
Availability:

Now

Rent:$690
Square Feet:266
Floor Plan:

Pikes Peak
Unit: BP-5606-A
3 Bed, 3 Bath
Availability:

2023-08-07

Rent:$1065
Square Feet:266
Floor Plan:

Pikes Peak
Unit: BP-5736-B
3 Bed, 3 Bath
Availability:

2023-08-07

Rent:$690
Square Feet:266
Floor Plan:

Pikes Peak
Unit: BP-5685-B
3 Bed, 3 Bath
Availability:

2023-08-17

Rent:$690
Square Feet:266
Floor Plan:

Pikes Peak
Unit: BP-5605-A
3 Bed, 3 Bath
Availability:

2023-08-17

Rent:$690
Square Feet:266
Floor Plan:

Pikes Peak
Unit: LR-5724-C
3 Bed, 3 Bath
Availability:

2023-08-17

Rent:$690
Square Feet:266
Floor Plan:

Pikes Peak
Unit: LT-5766-C
3 Bed, 3 Bath
Availability:

2023-08-17

Rent:$690
Square Feet:266
Floor Plan:

Pikes Peak
Unit: BP-5867-B
3 Bed, 3 Bath
Availability:

2023-08-17

Rent:$690
Square Feet:266
Floor Plan:

Pikes Peak
Unit: BP-5605-B
3 Bed, 3 Bath
Availability:

2023-08-17

Rent:$690
Square Feet:266
Floor Plan:

Pikes Peak
Unit: BP-5867-C
3 Bed, 3 Bath
Availability:

2023-08-17

Rent:$690
Square Feet:266
Floor Plan:

Pikes Peak
Unit: BP-5812-B
3 Bed, 3 Bath
Availability:

2023-08-17

Rent:$690
Square Feet:266
Floor Plan:

Pikes Peak
Unit: BP-5812-A
3 Bed, 3 Bath
Availability:

2023-08-17

Rent:$690
Square Feet:266
Floor Plan:

Pikes Peak
Unit: BP-5546-C
3 Bed, 3 Bath
Availability:

2023-08-17

Rent:$690
Square Feet:266
Floor Plan:

Pikes Peak
Unit: BP-5736-C
3 Bed, 3 Bath
Availability:

2023-08-17

Rent:$690
Square Feet:266
Floor Plan:

Pikes Peak
Unit: LR-5724-B
3 Bed, 3 Bath
Availability:

2023-08-17

Rent:$690
Square Feet:266
Floor Plan:

Pikes Peak
Unit: BP-5686-B
3 Bed, 3 Bath
Availability:

2023-08-17

Rent:$690
Square Feet:266
Floor Plan:

Pikes Peak
Unit: BP-5812-C
3 Bed, 3 Bath
Availability:

2023-08-17

Rent:$690
Square Feet:266
Floor Plan:

Pikes Peak
Unit: BP-5516-C
3 Bed, 3 Bath
Availability:

2023-08-17

Rent:$690
Square Feet:266
Floor Plan:

Pikes Peak
Unit: LD-5735-A
3 Bed, 3 Bath
Availability:

2023-08-17

Rent:$690
Square Feet:266
Floor Plan:

Pikes Peak
Unit: LT-5766-A
3 Bed, 3 Bath
Availability:

2023-08-17

Rent:$690
Square Feet:266
Floor Plan:

Pikes Peak
Unit: BP-5736-A
3 Bed, 3 Bath
Availability:

2023-08-17

Rent:$690
Square Feet:266
Floor Plan:

Pikes Peak
Unit: LD-5735-C
3 Bed, 3 Bath
Availability:

2023-08-17

Rent:$690
Square Feet:266
Floor Plan:

Pikes Peak
Unit: BP-5605-C
3 Bed, 3 Bath
Availability:

2023-08-17

Rent:$690
Square Feet:266
Floor Plan:

Pikes Peak
Unit: BP-5686-A
3 Bed, 3 Bath
Availability:

2023-08-17

Rent:$690
Square Feet:266
Floor Plan:

Pikes Peak
Unit: BP-5546-B
3 Bed, 3 Bath
Availability:

2023-08-17

Rent:$690
Square Feet:266
Floor Plan:

Pikes Peak
Unit: BP-5706-C
3 Bed, 3 Bath
Availability:

2023-08-17

Rent:$690
Square Feet:266
Floor Plan:

Pikes Peak
Unit: BP-5931-A
3 Bed, 3 Bath
Availability:

2023-08-17

Rent:$690
Square Feet:266
Floor Plan:

Pikes Peak
Unit: BP-5685-A
3 Bed, 3 Bath
Availability:

2023-08-17

Rent:$690
Square Feet:266
Floor Plan:

Pikes Peak
Unit: LD-5735-B
3 Bed, 3 Bath
Availability:

2023-08-17

Rent:$690
Square Feet:266
Floor Plan:

Pikes Peak
Unit: RA-5657-D
4 Bed, 4 Bath
Availability:

Now

Rent:$675
Square Feet:266
Floor Plan:

Greys Peak
Unit: BP-5883-D
4 Bed, 4 Bath
Availability:

Now

Rent:$675
Square Feet:266
Floor Plan:

Greys Peak
Unit: RA-5657-C
4 Bed, 4 Bath
Availability:

Now

Rent:$675
Square Feet:266
Floor Plan:

Greys Peak
Unit: LR-5784-D
4 Bed, 4 Bath
Availability:

Now

Rent:$675
Square Feet:266
Floor Plan:

Greys Peak
Unit: LT-5676-A
4 Bed, 4 Bath
Availability:

Now

Rent:$675
Square Feet:266
Floor Plan:

Greys Peak
Unit: BP-5645-A
4 Bed, 4 Bath
Availability:

Now

Rent:$675
Square Feet:266
Floor Plan:

Greys Peak
Unit: LT-5610-D
4 Bed, 4 Bath
Availability:

Now

Rent:$675
Square Feet:266
Floor Plan:

Greys Peak
Unit: BP-5868-D
4 Bed, 4 Bath
Availability:

Now

Rent:$675
Square Feet:266
Floor Plan:

Greys Peak
Unit: LR-5754-C
4 Bed, 4 Bath
Availability:

Now

Rent:$675
Square Feet:266
Floor Plan:

Greys Peak
Unit: LT-5610-A
4 Bed, 4 Bath
Availability:

Now

Rent:$675
Square Feet:266
Floor Plan:

Greys Peak
Unit: LT-5670-B
4 Bed, 4 Bath
Availability:

Now

Rent:$675
Square Feet:266
Floor Plan:

Greys Peak
Unit: LT-5706-A
4 Bed, 4 Bath
Availability:

Now

Rent:$675
Square Feet:266
Floor Plan:

Greys Peak
Unit: BP-5615-C
4 Bed, 4 Bath
Availability:

2023-08-07

Rent:$655
Square Feet:266
Floor Plan:

Greys Peak
Unit: BP-5924-C
4 Bed, 4 Bath
Availability:

2023-08-07

Rent:$675
Square Feet:266
Floor Plan:

Greys Peak
Unit: LR-5744-B
4 Bed, 4 Bath
Availability:

2023-08-07

Rent:$675
Square Feet:266
Floor Plan:

Greys Peak
Unit: BP-5656-D
4 Bed, 4 Bath
Availability:

2023-08-07

Rent:$675
Square Feet:266
Floor Plan:

Greys Peak
Unit: BP-5924-D
4 Bed, 4 Bath
Availability:

2023-08-07

Rent:$675
Square Feet:266
Floor Plan:

Greys Peak
Unit: LT-5688-D
4 Bed, 4 Bath
Availability:

2023-08-07

Rent:$675
Square Feet:266
Floor Plan:

Greys Peak
Unit: LR-5754-D
4 Bed, 4 Bath
Availability:

2023-08-07

Rent:$675
Square Feet:266
Floor Plan:

Greys Peak
Unit: LD-5711-C
4 Bed, 4 Bath
Availability:

2023-08-07

Rent:$675
Square Feet:266
Floor Plan:

Greys Peak
Unit: BP-5576-A
4 Bed, 4 Bath
Availability:

2023-08-07

Rent:$675
Square Feet:266
Floor Plan:

Greys Peak
Unit: BP-5536-A
4 Bed, 4 Bath
Availability:

2023-08-07

Rent:$675
Square Feet:266
Floor Plan:

Greys Peak
Unit: LT-5742-D
4 Bed, 4 Bath
Availability:

2023-08-07

Rent:$675
Square Feet:266
Floor Plan:

Greys Peak
Unit: LR-5774-A
4 Bed, 4 Bath
Availability:

2023-08-07

Rent:$675
Square Feet:266
Floor Plan:

Greys Peak
Unit: BP-5875-A
4 Bed, 4 Bath
Availability:

2023-08-17

Rent:$650
Square Feet:266
Floor Plan:

Greys Peak
Unit: BP-5636-C
4 Bed, 4 Bath
Availability:

2023-08-17

Rent:$650
Square Feet:266
Floor Plan:

Greys Peak
Unit: RA-5653-A
4 Bed, 4 Bath
Availability:

2023-08-17

Rent:$650
Square Feet:266
Floor Plan:

Greys Peak
Unit: LT-5634-A
4 Bed, 4 Bath
Availability:

2023-08-17

Rent:$650
Square Feet:266
Floor Plan:

Greys Peak
Unit: LT-5628-A
4 Bed, 4 Bath
Availability:

2023-08-17

Rent:$650
Square Feet:266
Floor Plan:

Greys Peak
Unit: LT-5670-A
4 Bed, 4 Bath
Availability:

2023-08-17

Rent:$650
Square Feet:266
Floor Plan:

Greys Peak
Unit: BP-5908-A
4 Bed, 4 Bath
Availability:

2023-08-17

Rent:$650
Square Feet:266
Floor Plan:

Greys Peak
Unit: LD-5727-D
4 Bed, 4 Bath
Availability:

2023-08-17

Rent:$650
Square Feet:266
Floor Plan:

Greys Peak
Unit: LT-5736-C
4 Bed, 4 Bath
Availability:

2023-08-17

Rent:$650
Square Feet:266
Floor Plan:

Greys Peak
Unit: LD-5871-D
4 Bed, 4 Bath
Availability:

2023-08-17

Rent:$650
Square Feet:266
Floor Plan:

Greys Peak
Unit: LR-5864-B
4 Bed, 4 Bath
Availability:

2023-08-17

Rent:$650
Square Feet:266
Floor Plan:

Greys Peak
Unit: BP-5899-B
4 Bed, 4 Bath
Availability:

2023-08-17

Rent:$650
Square Feet:266
Floor Plan:

Greys Peak
Unit: BP-5868-A
4 Bed, 4 Bath
Availability:

2023-08-17

Rent:$650
Square Feet:266
Floor Plan:

Greys Peak
Unit: BP-5645-C
4 Bed, 4 Bath
Availability:

2023-08-17

Rent:$650
Square Feet:266
Floor Plan:

Greys Peak
Unit: BP-5852-C
4 Bed, 4 Bath
Availability:

2023-08-17

Rent:$650
Square Feet:266
Floor Plan:

Greys Peak
Unit: LR-5784-B
4 Bed, 4 Bath
Availability:

2023-08-17

Rent:$650
Square Feet:266
Floor Plan:

Greys Peak
Unit: BP-5964-D
4 Bed, 4 Bath
Availability:

2023-08-17

Rent:$650
Square Feet:266
Floor Plan:

Greys Peak
Unit: LT-5628-D
4 Bed, 4 Bath
Availability:

2023-08-17

Rent:$650
Square Feet:266
Floor Plan:

Greys Peak
Unit: LR-5884-A
4 Bed, 4 Bath
Availability:

2023-08-17

Rent:$650
Square Feet:266
Floor Plan:

Greys Peak
Unit: LT-5736-A
4 Bed, 4 Bath
Availability:

2023-08-17

Rent:$650
Square Feet:266
Floor Plan:

Greys Peak
Unit: BP-5908-D
4 Bed, 4 Bath
Availability:

2023-08-17

Rent:$650
Square Feet:266
Floor Plan:

Greys Peak
Unit: LR-5874-A
4 Bed, 4 Bath
Availability:

2023-08-17

Rent:$650
Square Feet:266
Floor Plan:

Greys Peak
Unit: LT-5646-A
4 Bed, 4 Bath
Availability:

2023-08-17

Rent:$650
Square Feet:266
Floor Plan:

Greys Peak
Unit: BP-5876-D
4 Bed, 4 Bath
Availability:

2023-08-17

Rent:$650
Square Feet:266
Floor Plan:

Greys Peak
Unit: LR-5804-C
4 Bed, 4 Bath
Availability:

2023-08-17

Rent:$650
Square Feet:266
Floor Plan:

Greys Peak
Unit: LR-5814-B
4 Bed, 4 Bath
Availability:

2023-08-17

Rent:$650
Square Feet:266
Floor Plan:

Greys Peak
Unit: LR-5734-B
4 Bed, 4 Bath
Availability:

2023-08-17

Rent:$650
Square Feet:266
Floor Plan:

Greys Peak
Unit: LT-5646-C
4 Bed, 4 Bath
Availability:

2023-08-17

Rent:$650
Square Feet:266
Floor Plan:

Greys Peak
Unit: BP-5868-B
4 Bed, 4 Bath
Availability:

2023-08-17

Rent:$650
Square Feet:266
Floor Plan:

Greys Peak
Unit: BP-5836-A
4 Bed, 4 Bath
Availability:

2023-08-17

Rent:$650
Square Feet:266
Floor Plan:

Greys Peak
Unit: RA-5653-B
4 Bed, 4 Bath
Availability:

2023-08-17

Rent:$650
Square Feet:266
Floor Plan:

Greys Peak
Unit: LT-5670-C
4 Bed, 4 Bath
Availability:

2023-08-17

Rent:$650
Square Feet:266
Floor Plan:

Greys Peak
Unit: LT-5610-B
4 Bed, 4 Bath
Availability:

2023-08-17

Rent:$650
Square Feet:266
Floor Plan:

Greys Peak
Unit: LD-5791-A
4 Bed, 4 Bath
Availability:

2023-08-17

Rent:$650
Square Feet:266
Floor Plan:

Greys Peak
Unit: BP-5875-B
4 Bed, 4 Bath
Availability:

2023-08-17

Rent:$650
Square Feet:266
Floor Plan:

Greys Peak
Unit: LR-5844-D
4 Bed, 4 Bath
Availability:

2023-08-17

Rent:$650
Square Feet:266
Floor Plan:

Greys Peak
Unit: LR-5754-A
4 Bed, 4 Bath
Availability:

2023-08-17

Rent:$650
Square Feet:266
Floor Plan:

Greys Peak
Unit: LT-5646-B
4 Bed, 4 Bath
Availability:

2023-08-17

Rent:$650
Square Feet:266
Floor Plan:

Greys Peak
Unit: LT-5730-D
4 Bed, 4 Bath
Availability:

2023-08-17

Rent:$650
Square Feet:266
Floor Plan:

Greys Peak
Unit: LD-5711-D
4 Bed, 4 Bath
Availability:

2023-08-17

Rent:$650
Square Feet:266
Floor Plan:

Greys Peak
Unit: BP-5972-C
4 Bed, 4 Bath
Availability:

2023-08-17

Rent:$650
Square Feet:266
Floor Plan:

Greys Peak
Unit: LT-5712-D
4 Bed, 4 Bath
Availability:

2023-08-17

Rent:$650
Square Feet:266
Floor Plan:

Greys Peak
Unit: LT-5724-D
4 Bed, 4 Bath
Availability:

2023-08-17

Rent:$650
Square Feet:266
Floor Plan:

Greys Peak
Unit: BP-5972-B
4 Bed, 4 Bath
Availability:

2023-08-17

Rent:$650
Square Feet:266
Floor Plan:

Greys Peak
Unit: LD-5831-C
4 Bed, 4 Bath
Availability:

2023-08-17

Rent:$650
Square Feet:266
Floor Plan:

Greys Peak
Unit: BP-5892-C
4 Bed, 4 Bath
Availability:

2023-08-17

Rent:$650
Square Feet:266
Floor Plan:

Greys Peak
Unit: LD-5783-C
4 Bed, 4 Bath
Availability:

2023-08-17

Rent:$650
Square Feet:266
Floor Plan:

Greys Peak
Unit: LT-5688-C
4 Bed, 4 Bath
Availability:

2023-08-17

Rent:$650
Square Feet:266
Floor Plan:

Greys Peak
Unit: BP-5645-D
4 Bed, 4 Bath
Availability:

2023-08-17

Rent:$650
Square Feet:266
Floor Plan:

Greys Peak
Unit: BP-5972-A
4 Bed, 4 Bath
Availability:

2023-08-17

Rent:$650
Square Feet:266
Floor Plan:

Greys Peak
Unit: LT-5652-B
4 Bed, 4 Bath
Availability:

2023-08-17

Rent:$650
Square Feet:266
Floor Plan:

Greys Peak
Unit: BP-5645-B
4 Bed, 4 Bath
Availability:

2023-08-17

Rent:$650
Square Feet:266
Floor Plan:

Greys Peak
Unit: LR-5874-C
4 Bed, 4 Bath
Availability:

2023-08-17

Rent:$650
Square Feet:266
Floor Plan:

Greys Peak
Unit: RA-5657-A
4 Bed, 4 Bath
Availability:

2023-08-17

Rent:$650
Square Feet:266
Floor Plan:

Greys Peak
Unit: BP-5820-D
4 Bed, 4 Bath
Availability:

2023-08-17

Rent:$650
Square Feet:266
Floor Plan:

Greys Peak
Unit: LR-5804-A
4 Bed, 4 Bath
Availability:

2023-08-17

Rent:$650
Square Feet:266
Floor Plan:

Greys Peak
Unit: LR-5754-B
4 Bed, 4 Bath
Availability:

2023-08-17

Rent:$650
Square Feet:266
Floor Plan:

Greys Peak
Unit: BP-5852-A
4 Bed, 4 Bath
Availability:

2023-08-17

Rent:$650
Square Feet:266
Floor Plan:

Greys Peak
Unit: LD-5719-B
4 Bed, 4 Bath
Availability:

2023-08-17

Rent:$650
Square Feet:266
Floor Plan:

Greys Peak
Unit: BP-5586-A
4 Bed, 4 Bath
Availability:

2023-08-17

Rent:$650
Square Feet:266
Floor Plan:

Greys Peak
Unit: BP-5625-D
4 Bed, 4 Bath
Availability:

2023-08-17

Rent:$650
Square Feet:266
Floor Plan:

Greys Peak
Unit: BP-5915-A
4 Bed, 4 Bath
Availability:

2023-08-17

Rent:$650
Square Feet:266
Floor Plan:

Greys Peak
Unit: LT-5742-C
4 Bed, 4 Bath
Availability:

2023-08-17

Rent:$650
Square Feet:266
Floor Plan:

Greys Peak
Unit: LD-5767-D
4 Bed, 4 Bath
Availability:

2023-08-17

Rent:$650
Square Feet:266
Floor Plan:

Greys Peak
Unit: RA-5649-A
4 Bed, 4 Bath
Availability:

2023-08-17

Rent:$650
Square Feet:266
Floor Plan:

Greys Peak
Unit: BP-5636-D
4 Bed, 4 Bath
Availability:

2023-08-17

Rent:$650
Square Feet:266
Floor Plan:

Greys Peak
Unit: BP-5860-D
4 Bed, 4 Bath
Availability:

2023-08-17

Rent:$650
Square Feet:266
Floor Plan:

Greys Peak
Unit: LT-5730-B
4 Bed, 4 Bath
Availability:

2023-08-17

Rent:$650
Square Feet:266
Floor Plan:

Greys Peak
Unit: BP-5915-D
4 Bed, 4 Bath
Availability:

2023-08-17

Rent:$650
Square Feet:266
Floor Plan:

Greys Peak
Unit: LD-5759-C
4 Bed, 4 Bath
Availability:

2023-08-17

Rent:$650
Square Feet:266
Floor Plan:

Greys Peak
Unit: BP-5891-A
4 Bed, 4 Bath
Availability:

2023-08-17

Rent:$650
Square Feet:266
Floor Plan:

Greys Peak
Unit: BP-5892-B
4 Bed, 4 Bath
Availability:

2023-08-17

Rent:$650
Square Feet:266
Floor Plan:

Greys Peak
Unit: LT-5610-C
4 Bed, 4 Bath
Availability:

2023-08-17

Rent:$650
Square Feet:266
Floor Plan:

Greys Peak
Unit: BP-5908-C
4 Bed, 4 Bath
Availability:

2023-08-17

Rent:$650
Square Feet:266
Floor Plan:

Greys Peak
Unit: BP-5956-D
4 Bed, 4 Bath
Availability:

2023-08-17

Rent:$650
Square Feet:266
Floor Plan:

Greys Peak
Unit: LR-5814-D
4 Bed, 4 Bath
Availability:

2023-08-17

Rent:$650
Square Feet:266
Floor Plan:

Greys Peak
Unit: BP-5907-C
4 Bed, 4 Bath
Availability:

2023-08-17

Rent:$650
Square Feet:266
Floor Plan:

Greys Peak
Unit: LD-5719-D
4 Bed, 4 Bath
Availability:

2023-08-17

Rent:$650
Square Feet:266
Floor Plan:

Greys Peak
Unit: LR-5814-A
4 Bed, 4 Bath
Availability:

2023-08-17

Rent:$650
Square Feet:266
Floor Plan:

Greys Peak
Unit: LD-5815-B
4 Bed, 4 Bath
Availability:

2023-08-17

Rent:$650
Square Feet:266
Floor Plan:

Greys Peak
Unit: LR-5734-D
4 Bed, 4 Bath
Availability:

2023-08-17

Rent:$650
Square Feet:266
Floor Plan:

Greys Peak
Unit: LT-5724-A
4 Bed, 4 Bath
Availability:

2023-08-17

Rent:$650
Square Feet:266
Floor Plan:

Greys Peak
Unit: BP-5665-B
4 Bed, 4 Bath
Availability:

2023-08-17

Rent:$650
Square Feet:266
Floor Plan:

Greys Peak
Unit: BP-5924-A
4 Bed, 4 Bath
Availability:

2023-08-17

Rent:$650
Square Feet:266
Floor Plan:

Greys Peak
Unit: BP-5636-B
4 Bed, 4 Bath
Availability:

2023-08-17

Rent:$650
Square Feet:266
Floor Plan:

Greys Peak
Unit: BP-5916-A
4 Bed, 4 Bath
Availability:

2023-08-17

Rent:$650
Square Feet:266
Floor Plan:

Greys Peak
Unit: LT-5658-B
4 Bed, 4 Bath
Availability:

2023-08-17

Rent:$650
Square Feet:266
Floor Plan:

Greys Peak
Unit: LD-5863-B
4 Bed, 4 Bath
Availability:

2023-08-17

Rent:$650
Square Feet:266
Floor Plan:

Greys Peak
Unit: LT-5730-C
4 Bed, 4 Bath
Availability:

2023-08-17

Rent:$650
Square Feet:266
Floor Plan:

Greys Peak
Unit: BP-5907-A
4 Bed, 4 Bath
Availability:

2023-08-17

Rent:$650
Square Feet:266
Floor Plan:

Greys Peak
Unit: LR-5744-D
4 Bed, 4 Bath
Availability:

2023-08-17

Rent:$650
Square Feet:266
Floor Plan:

Greys Peak
Unit: LT-5718-B
4 Bed, 4 Bath
Availability:

2023-08-17

Rent:$650
Square Feet:266
Floor Plan:

Greys Peak
Unit: LT-5670-D
4 Bed, 4 Bath
Availability:

2023-08-17

Rent:$650
Square Feet:266
Floor Plan:

Greys Peak
Unit: LR-5734-A
4 Bed, 4 Bath
Availability:

2023-08-17

Rent:$650
Square Feet:266
Floor Plan:

Greys Peak
Unit: LR-5784-C
4 Bed, 4 Bath
Availability:

2023-08-17

Rent:$650
Square Feet:266
Floor Plan:

Greys Peak
Unit: LR-5744-C
4 Bed, 4 Bath
Availability:

2023-08-17

Rent:$650
Square Feet:266
Floor Plan:

Greys Peak
Unit: LD-5831-B
4 Bed, 4 Bath
Availability:

2023-08-17

Rent:$650
Square Feet:266
Floor Plan:

Greys Peak
Unit: LD-5775-A
4 Bed, 4 Bath
Availability:

2023-08-17

Rent:$650
Square Feet:266
Floor Plan:

Greys Peak
Unit: LD-5767-B
4 Bed, 4 Bath
Availability:

2023-08-17

Rent:$650
Square Feet:266
Floor Plan:

Greys Peak
Unit: LD-5759-D
4 Bed, 4 Bath
Availability:

2023-08-17

Rent:$650
Square Feet:266
Floor Plan:

Greys Peak
Unit: BP-5675-B
4 Bed, 4 Bath
Availability:

2023-08-17

Rent:$650
Square Feet:266
Floor Plan:

Greys Peak
Unit: BP-5675-A
4 Bed, 4 Bath
Availability:

2023-08-17

Rent:$650
Square Feet:266
Floor Plan:

Greys Peak
Unit: BP-5646-B
4 Bed, 4 Bath
Availability:

2023-08-17

Rent:$650
Square Feet:266
Floor Plan:

Greys Peak
Unit: BP-5635-B
4 Bed, 4 Bath
Availability:

2023-08-17

Rent:$650
Square Feet:266
Floor Plan:

Greys Peak
Unit: BP-5615-D
4 Bed, 4 Bath
Availability:

2023-08-17

Rent:$650
Square Feet:266
Floor Plan:

Greys Peak
Unit: BP-5828-A
4 Bed, 4 Bath
Availability:

2023-08-17

Rent:$650
Square Feet:266
Floor Plan:

Greys Peak
Unit: LR-5874-B
4 Bed, 4 Bath
Availability:

2023-08-17

Rent:$650
Square Feet:266
Floor Plan:

Greys Peak
Unit: LR-5804-D
4 Bed, 4 Bath
Availability:

2023-08-17

Rent:$650
Square Feet:266
Floor Plan:

Greys Peak
Unit: LR-5864-C
4 Bed, 4 Bath
Availability:

2023-08-17

Rent:$650
Square Feet:266
Floor Plan:

Greys Peak
Unit: LD-5751-C
4 Bed, 4 Bath
Availability:

2023-08-17

Rent:$650
Square Feet:266
Floor Plan:

Greys Peak
Unit: LD-5727-A
4 Bed, 4 Bath
Availability:

2023-08-17

Rent:$650
Square Feet:266
Floor Plan:

Greys Peak
Unit: BP-5964-A
4 Bed, 4 Bath
Availability:

2023-08-17

Rent:$650
Square Feet:266
Floor Plan:

Greys Peak
Unit: BP-5923-B
4 Bed, 4 Bath
Availability:

2023-08-17

Rent:$650
Square Feet:266
Floor Plan:

Greys Peak
Unit: BP-5956-C
4 Bed, 4 Bath
Availability:

2023-08-17

Rent:$650
Square Feet:266
Floor Plan:

Greys Peak
Unit: BP-5964-C
4 Bed, 4 Bath
Availability:

2023-08-17

Rent:$650
Square Feet:266
Floor Plan:

Greys Peak
Unit: BP-5932-D
4 Bed, 4 Bath
Availability:

2023-08-17

Rent:$650
Square Feet:266
Floor Plan:

Greys Peak
Unit: BP-5972-D
4 Bed, 4 Bath
Availability:

2023-08-17

Rent:$650
Square Feet:266
Floor Plan:

Greys Peak
Unit: BP-5907-B
4 Bed, 4 Bath
Availability:

2023-08-17

Rent:$650
Square Feet:266
Floor Plan:

Greys Peak
Unit: BP-5625-A
4 Bed, 4 Bath
Availability:

2023-08-17

Rent:$650
Square Feet:266
Floor Plan:

Greys Peak
Unit: LD-5823-D
4 Bed, 4 Bath
Availability:

2023-08-17

Rent:$650
Square Feet:266
Floor Plan:

Greys Peak
Unit: LD-5751-A
4 Bed, 4 Bath
Availability:

2023-08-17

Rent:$650
Square Feet:266
Floor Plan:

Greys Peak
Unit: LD-5783-B
4 Bed, 4 Bath
Availability:

2023-08-17

Rent:$650
Square Feet:266
Floor Plan:

Greys Peak
Unit: LD-5775-B
4 Bed, 4 Bath
Availability:

2023-08-17

Rent:$650
Square Feet:266
Floor Plan:

Greys Peak
Unit: LD-5791-B
4 Bed, 4 Bath
Availability:

2023-08-17

Rent:$650
Square Feet:266
Floor Plan:

Greys Peak
Unit: BP-5875-C
4 Bed, 4 Bath
Availability:

2023-08-17

Rent:$650
Square Feet:266
Floor Plan:

Greys Peak
Unit: BP-5828-B
4 Bed, 4 Bath
Availability:

2023-08-17

Rent:$650
Square Feet:266
Floor Plan:

Greys Peak
Unit: LT-5718-D
4 Bed, 4 Bath
Availability:

2023-08-17

Rent:$650
Square Feet:266
Floor Plan:

Greys Peak
Unit: LT-5730-A
4 Bed, 4 Bath
Availability:

2023-08-17

Rent:$650
Square Feet:266
Floor Plan:

Greys Peak
Unit: LT-5652-A
4 Bed, 4 Bath
Availability:

2023-08-17

Rent:$650
Square Feet:266
Floor Plan:

Greys Peak
Unit: LT-5712-A
4 Bed, 4 Bath
Availability:

2023-08-17

Rent:$650
Square Feet:266
Floor Plan:

Greys Peak
Unit: LR-5884-B
4 Bed, 4 Bath
Availability:

2023-08-17

Rent:$650
Square Feet:266
Floor Plan:

Greys Peak
Unit: LR-5804-B
4 Bed, 4 Bath
Availability:

2023-08-17

Rent:$650
Square Feet:266
Floor Plan:

Greys Peak
Unit: LR-5824-B
4 Bed, 4 Bath
Availability:

2023-08-17

Rent:$650
Square Feet:266
Floor Plan:

Greys Peak
Unit: LR-5734-C
4 Bed, 4 Bath
Availability:

2023-08-17

Rent:$650
Square Feet:266
Floor Plan:

Greys Peak
Unit: LD-5767-C
4 Bed, 4 Bath
Availability:

2023-08-17

Rent:$650
Square Feet:266
Floor Plan:

Greys Peak
Unit: LD-5759-B
4 Bed, 4 Bath
Availability:

2023-08-17

Rent:$650
Square Feet:266
Floor Plan:

Greys Peak
Unit: BP-5964-B
4 Bed, 4 Bath
Availability:

2023-08-17

Rent:$650
Square Feet:266
Floor Plan:

Greys Peak
Unit: BP-5932-C
4 Bed, 4 Bath
Availability:

2023-08-17

Rent:$650
Square Feet:266
Floor Plan:

Greys Peak
Unit: BP-5915-B
4 Bed, 4 Bath
Availability:

2023-08-17

Rent:$650
Square Feet:266
Floor Plan:

Greys Peak
Unit: LT-5640-A
4 Bed, 4 Bath
Availability:

2023-08-17

Rent:$650
Square Feet:266
Floor Plan:

Greys Peak
Unit: LD-5751-B
4 Bed, 4 Bath
Availability:

2023-08-17

Rent:$650
Square Feet:266
Floor Plan:

Greys Peak